Have you heard The Toughest Monster Truck Tour is coming to an area near you? What a fun family night out! The The Toughest Monster Truck Tour brings only the best and baddest monster trucks in the nation to compete in 3 competitions each night. You and your family can root to see who will be crowned the toughest.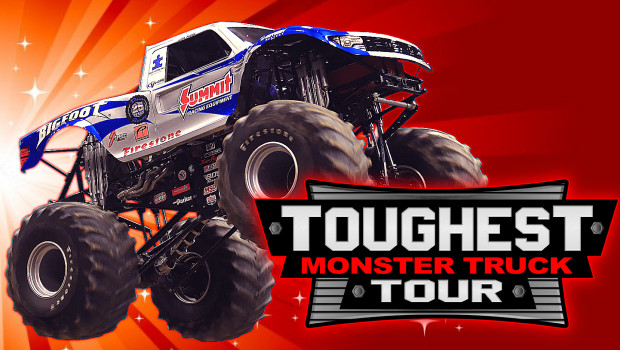 In addition you might see high flying Freestyle Motocross riders, a giant fire-breathing mechanical dinosaur, ATV/quad racing, tough trucks or a 2,000 hp jet powered ATV!
We are going, how about you?
How to get The Toughest Monster Truck Tour tickets
Tickets are on sale now for all performances, including those listed below. Michigan readers, you can catch The Toughest Monster Truck Tour in Saginaw on March 9th and 10th.
Find more information and view the upcoming schedule by visiting http://www.toughestmonstertrucks.com/upcoming-events/
January 19th – January 20th, 2018 Rio Rancho, New Mexico
Santa Ana Star Center
February 2nd – February 3rd, 2018 Youngstown, Ohio
Covelli Center
February 10th, 2018 Casper, Wyoming
Casper Events Center
February 17th, 2018 Salina, Kansas
Bicentennial Center
March 9th – March 10th, 2018 Saginaw, Michigan
Dow Event Center
March 23rd – March 24th, 2018 Lafayette, Louisiana
Cajundome
March 30th – March 31st, 2018 Stockton, California
Stockton Arena
March 30th – March 31st, 2018 Independence, Missouri
Silverstein Eye Centers Arena
April 13th – April 14th, 2018 Loveland, Colorado
Budweiser Events Center
April 21st, 2018 Grand Forks, North Dakota
Alerus Center

Years and years ago we went to a monster truck event with our young nephew. At the time he was obsessed with Hot Wheels cars and trucks. He had a phenomenal time and still brings up the memories from that day. It's things like that, chances to make memories with friends and family, that we strive for. Life is so short and if you don't make a conscious effort to plan fun events with those you love the time just flies by. If this sounds like a fun thing to do – be sure and check out the details in our link above.